Arlen Ness
Replacement Big Brake Caliper Mount. Fits Softail 2000-2014 & Dyna 2000-2005 with OEM 11.5in. Disc.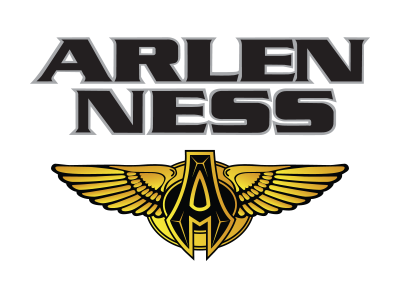 Available!
Product Details
* For use with 18in. or larger wheels with hub mounted disc
* 15in. kits available in stainless only
* Only works with Stock OEM brake caliper!
* Can be used in NG spoke wheel applications
* Does not work with Arlen Ness Hot Legs
Features:
Supercharge your braking performance and style with these over-sized rotor kits from Arlen Ness.
These kits provide a minimum of 30% more stopping power than factory sized rotors.
Utilizes your fact ory brake caliper and brake hose.
15in. rotors are constructed from stainless steel and floating hardware.
Brake caliper adapter bracket is machined from billet aluminum and re-locates the caliper to the proper position for the over-sized rotor.
Utilizes your factory brake caliper and brake hose.
Each kit includes an over-sized floating rotor and billet brake caliper adapter and necessary hardware.
Left and right side rotor kits are available, sold individually.
Tech Tip:-
* Will Not Fit Softail 2015up.
* Will Not Fit Dyna 2006up.
* Will Not Fit All Touring Models.
* Will Not Fit All Sportster Models.
* Will Not Fit Springer Models.
MFR PART No: 02-965-1
ROLLIES PART No: AN-02-965-1