S&S
3-1/4″ Grand National Slip-On Mufflers – Chrome with Black End Caps. Fits Dyna 1995-2017.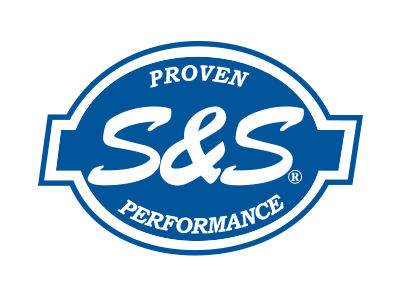 KW202410A 1801-1275 V16823
Available!
Product Details
Features & Benefits:-
* Up to 17% more horsepower and 9% more torque, when used with Stealth Air Cleaner Kit.
* Race inspired Grand National end cap.
* Show Chrome finish.
* Stainless Steel perforated baffle design with removable dB reducer.
* J2825 compliant.
* Deep performance rumble.
Tech Tips:-
* Will Not Fit Fatbob 2008-2017.
* Will Not Fit Low Riders 2015-2017.
* Will Not Fit Wide Glide 2010-2017.
* Ensure Muffler Clamps are in Good Condition, Prior to Installing the Muffler Support Bracket.
* Each Individual Muffler Should be Clamped to the Corresponding Header Pipe & Checked to Ensure a Firm Fit.
* In 2008 H-D Added an Additional Bracket.
* This Bracket was Added on 2008up International Models Only.
* Domestic American 2008up Models and All 1991-2007 Models are Not Fitted with this Bracket.
* This Exhaust Support Bracket Part #'s 65051-08 & 65051-09A is Not Utilised When UsingAftermarket Mufflers.
* Fuel Mixture Calibration is Advised.
Proudly Made in the USA By S&S Cycle!
MFR PART No: 550-0719
ROLLIES PART No: SS550-0719