Dakota Digital
4-1/2in. Tank Mount KPH Speedometer with Tachometer – Chrome. Fits Big Twin 1936-2003.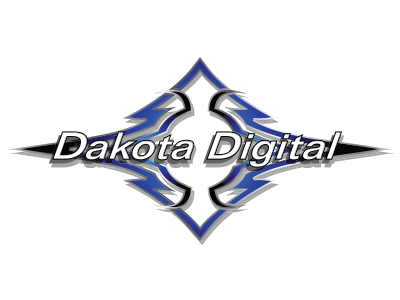 DAK-MCL-2002 DAK-MCL-2002-R BAI-T21-6986A BAI-T21-6984A-22
Available!
Product Details
Features & Benefits:-
* Rugged, Dependable & Re-Buildable.
* Reads in Kilometer per Hour (KPH).
* Fits stock 4-1/2in. Fat Bob tank dashes found on Road King, Softail and various Dyna models with the large, tank-mounted speedometer.
* Independently select colors for speed reading, message center information, bar-graph readouts and gauge labels, or choose from 12 preset themes.
* The message center below the main speed reading offers plenty of information and can b e configured to show just what the rider wants to see.
* Gauge display automatically dims for comfortable night time riding and brightens to a high contrast mode for excellent visibility, even in direct sunlight.
* Speedometer can be calibrated for custom-gearing situations and allows the user to select MPH or KPH in the setup menu.
* 400 KPH (250 MPH) Speedometer.
* Wrap around tachometer with adjustable shift point, can also display in digital numeric readout.
* Odometer with two resettable trip odometers.
* Kilometers to service, with user settable countdown.
* Clock with 12 hour format.
* Voltage readout with low voltage alert.
* Cylinder head temp, (requires factory sender)
* Oil pressure – sender sold separately # DAK-SEN-1039.
* Oil Temperature – sender sold separately #'s DAK-SEN-1043 & DAK-SEN-1044.
* Gear position indicator compatible with 4-7 speed transmissions.
* Standard indicators, turn signal
MFR PART No: MLX-2000
ROLLIES PART No: DAK-MLX-2000