Dakota Digital
Electronic Speedometer Adjustment Module. Fits Softail 1996-2006, Dyna 1996-2005, Touring 1996-2006 & Sportster 1995-2003.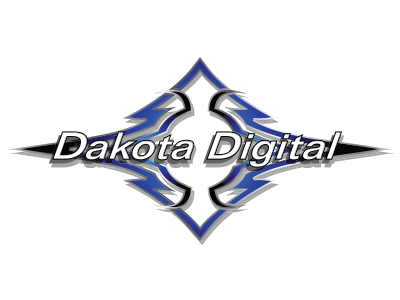 690710;BAK-95E-56A;NMZ-NSIM-01;SS55-1007;DAK-SIM-1
Available!
Product Details
Features & Benefits:-
* Rugged & Dependable.
* Electric speed correction module is designed to be a permanent addition to your bike's wiring harness to correct the speedometer and odometer after a change in tire size, pulley size or transmission gearing. * The unit connects between the stock Harley transmission sensor and the original speedometer or ECM and is easily tucked away into the bike's wiring harness after adjustment is complete.
* Two push button switches allow the o riginal speedometer reading to be increased or decreased easily.
* Ability to correct the speed to within 1 MPH or KPH with adjustment range of 25% to 400%.
* Sealed completely from water, dust, and dirt.
Tech Tips:-
* PLUG & PLAY on Sporster 1995-2003, Softail 1996-2006, Dyna 1996-2006 & Touring Models up to 2006 using Electronic Speedo
* HARDWIRE into Stock Harness on Sportster 2004up, Dyna 2006up, Softail 2007up & Touring 2007up models – Speed correction can be m ade up to Harley's factory margin of error, typically 3-5% of actual speed reading. Note:- If correction is made beyond this, it may result in the loss of the 6th gear indicator light and cruise control.
Proudly Made in the USA by Dakota Digital !
MFR PART No: SIM-1A
ROLLIES PART No: DAK-SIM-1A