Baker Drivetrain
DD6, Direct Drive 6 Speed Transmission Assembly with 2.94 1st Gear Ratio – Raw. Fits Softail 1990-1999.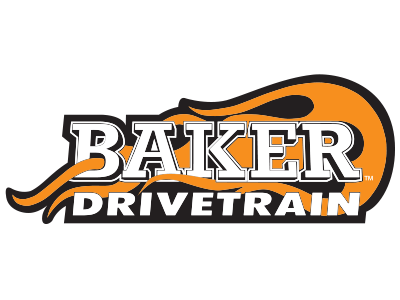 Available!
Product Details
* DD6 rated to 120 ft-lb torque capacity.
* Pre-assembled, ready to install.
* 1st, 2nd, and 3rd gears are straight cut to prevent lateral tension in those high torque, short-used gear ranges.
* Helical 4th, 5th and 6th, for a smooth and quiet ride in your cruising gears.
* 28T compensating sprocket & prim. Chain included. Necessary to maintain 1st – 5th stock gearing.
* Overdrive is obtained through the primary, so this ratio reduces strain on the starter with 14% more torque. The lower RPM in the primary drive reduces resonant noise found in Twin Cam transmission cases at higher primary RPM#s.
* Roller detent shift drum, with fixed spindle, eliminates shimming and misalignment.
* Inner primary race/spacer included.
* 3-point contact shift forks, hard chrome plated for extended life.
* Shifter pawl assembly with improved geometry for a perfect response. Includes a built in overshift protection for smooth, precise shifting.
* Stiff, precise billet aluminum bearing door that offers more bearing-protecting lateral rigidity than any other helical gearset available.
* Proprietary fork rod made to bearing grade specifications which eliminates hang-ups.
* Optimized use of horsepower: 99% efficient in 6th gear with a 400-500 rpm reduction
* Certain and positive shifting: Fixed spindle shift drum for smooth, low inertia, drum indexing. Anti-overshift ratchet pawl prevents mis-shifts.
*Full width BAKER ground gears finished on diamondcoated tooling are strong and dependable.
* Made in the USA! It's designed here too.
* Optional BAK-453-56C Hydraulic clutch actuator may be purchased separately
* WILL NOT WORK WITH OPEN BELT DRIVES
MFR PART No: DD701RL
ROLLIES PART No: BAK-DD701RL