Baker Drivetrain
Grudgebox Builders, 6 Speed Transmission Cassette with Strip Configuration & Chrome Door. Fits Milwaukee-Eight 2017up.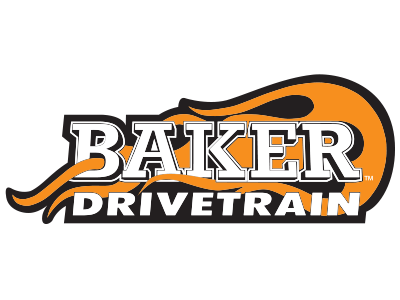 Available!
Product Details
Features & Benefits:-
* Chrome Bearing Door
* 3.20 1st Gear Ratio
* Built to take High Horsepower while providing elegant shift precision.
* Straight 1st, 2nd 3rd, 4th, 5th and 6th gears, designed and geared for performance buffs, racers and speed freaks.
* Having all the gears straight cut results in maximum power transfer to the rear wheel.
* Wide ratio gearing for heavier performance applications
* Built for aggressive takes offs and long distances a t above average speeds.
Tech Tips:-
* OEM Transmission Speed Sensor must be spaced with the shim provided to avoid contact with gears
* Main drive gear end float must be checked
* Transmission Pulley or Sprocket Nut must be secured well to avoid coming loose.
NOTE:-
SPEEDOMETER, GEAR INDICATOR, & CRUISE CONTROL
The GrudgeBox has different gear ratios than the stock transmission (except GrudgeBox 5th gear is the same as stock 6th gear, 1:1). This changes the input to the ECM. The 41-tooth reluctor ring in the GrudgeBox compensates to correct the speedometer within ± 2 mph with no re-flash to the ECM. However, the gear indicator and cruise control may only operate in 5th gear. To correct the gear indicator in all gears and enable cruise control in 3rd, 4th, and 6th, an ECM re-flash is required via an aftermarket EFI tuner such as TechnoResearch & TTS Master Tune.
MFR PART No: GBSTR17-01
ROLLIES PART No: BAK-GBSTR17-01