S&S
124ci Hot Set Up Kit with 91cc S&S Cylinder Heads – Black. Fits Dyna 2006-2017 & Touring Models 2007-2016.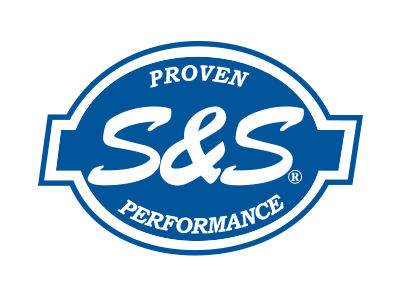 Available!
Product Details
Features & Benefits:-
* Fits Dyna 2006-2017 & Touring Models 2007-2016 with Twin Cam A Engine.
* This 124ci big bore/stroker Hot Set Up Kit transforms a stock engine into a 124ci monster.
* Includes S&S 4-1/8in. bore pistons.
* Includes big bore cylinders finished in wrinkle black powder coat.
* Includes a dynamically balanced 4-5/8in. stroke three piece flywheel assembly complete with S&S heavy duty connecting rods & intergal mainshafts.
* Includes S&S 640 gear drive Easy Start camshafts.
* Includes S&S chromoly steel adjustable pushrods.
* Includes S&S premium tappets
* Includes S&S Super Stock 91cc cylinder heads.
* When installed the kit yields a 124ci engine with a compression ratio of 10.8:1
* Although the engine is .960in. taller than stock, there are no frame clearance problems.
* A stock EFI Throttle body will fit because the manifold mounting surfaces of the heads have been specially machined to fit a stock length manifold.
* No fuel or ignition system is included.
* However, for the best results, a larger EFI throttle body, performance intake and performance exhaust are recommended.
* The EFI system must be recalibrated.
Tech Tips:-
* Fits Twin Cam A Engines only (Dyna & Tourer)
* Requires the following items to complete the installation:-
1. Throttle Body, Manifold, Flanges & Seal Kit # HPI-58D6-18
2. Maximus Tuner # TR4-002-002 or similar.
3. Crankcase Machining, Timken Bearing # SS31-4013, Replacement Timken Sleeve # JM-956 & Complete Timken Bearing Conversion Tool # JM-959 if required.
4. Stock crankcases require machining to accept 4-1/8in. cylinders.
Proudly Made in the USA by S&S Cycle !
MFR PART No: 900-0568
ROLLIES PART No: SS900-0568